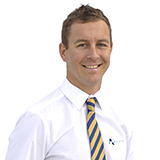 josh.rummery@astutefinancial.com.au
I started as a Mortgage Broker in 2015 after a 5 year career working through the ranks of one of the big banks. I was keen to provide a more personal service; applying compassion, knowledge and guidance to positively help with the finances for my clients needed to grow throughout life. Mortgage Broking is helping me fulfil this goal as I can invest my time to help throughout the entire transaction. I believe the best thing we do is explain the process to the client in a simple and easy way.
Originally born in Armidale and moving around regional NSW through my schooling life, I started my career in finance working in banks across regional NSW, followed by a short time in Sydney and a stint in the Northern Territory. Finally moving to Port Macquarie in 2008, I worked at the local Hogs Breath Café for a few years before getting back into the finance world. I wouldn't want to live anywhere else now.
I believe it is my diverse background that makes me good at what I do. I can easily relate to people of all walks of life and genuinely enjoy getting to know my clients. My focus is to support clients to grow their portfolio and wealth by facilitating a simple process, whilst maintaining the highest degree of integrity, always acting with passion and utilising my deep associated skill-set.
Based in Port Macquarie, I am also fully mobile and available to assist all borrowers across the Mid-North Coast and Northern Tablelands.
If you want to deal with someone that will truly cater to your finance needs, investing the time and experience needed to help you with your successful application, please don't ever hesitate to contact me.
view more
view less