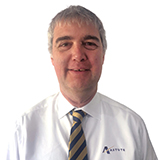 stephen.wells@astutefinancial.com.au
After a 30 year career with international organisations across UK, Europe, Africa and Asia, Stephen created Madison Wells to help local businesses and residents to achieve their corporate and personal goals, as well as sharing his knowledge of business management. Stephen's career was focused on international sales, services and customer success programs and he has brought that experience to Sydney to act as a mentor and guide for those wishing to change their future.
Stephen's relationship with Astute Manly goes back 16 years when he bought his first local property and over the years that relationship helped Stephen to manage his assets including motorcycles and cars. Stephen trusted Astute to provide him with the knowledge he needed and this partnership enables Stephen to now share this to a wider audience.
Stephen has a Certificate IV in Finance Broking and is a Graduate of the Australian Graduate School of Management (UNSW) and the Australian Institute of Company Directors. He is also an Approved Advisor with the Advisory Board Centre.
Stephen is the Managing Director of Madison Wells Pty Ltd a business advisory company that specialises in business and governance improvements. Madison Wells Pty Ltd also trades as Astute St Leonards under the mentorship of Astute Dee Why managed by Sam Ayliffe
Stephen is also a non-executive director with Road Sense Australia, a company focused on reducing Australia's road toll and also Macquarie Community College, providing foundation skills to the Sydney region. He is also the Convenor of the Motoring Group within the Royal Automobile Club of Australia and the President of a local car club.
Stephen lives with his wife Marta in St Leonards and enjoys travelling, exploring the local history and being involved in classic and historic car racing.
view more
view less