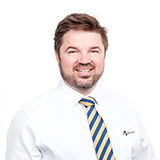 emil.stroia@astutefinancial.com.au
As the principal of Astute Finance in Mosman, Emil Stroia is passionate about helping people embark on their finance related journey's.
Emil has worked in the banking industry for over 17 years. His career spans across a number of specialist roles in credit assessment, commercial lending and residential lending and across a broad range of financial institutions including NAB, Bankwest and Commonwealth Bank.
"I believe my local knowledge, experience and customer-focus will help secure and enhance the financial well-being of people, businesses and the local community," Emil said.
As the principal of Astute Finance in Mosman, Emil and his team meet with existing and prospective clients anywhere, anytime – even weekends – to discuss their finance related queries.
In his most recent role, Emil had achieved and maintained a top 5 position nationally for the past 6 years and awarded Large Business of the Year for 2016.
Emil is committed to identifying the best solutions for his customers and has therefore embarked on a journey that will allow him to deliver this to his customers. By doing the leg-work on behalf of the customer with the various lenders, Emil will present the various options which would best fit to achieve the desired outcome.
Emil is highly experienced and committed to helping you find the right product and service that suits your needs, whether it's investing in property or business, looking for more effective rates or structures, Emil will help you achieve an outcome that will save you time and money.
view more
view less