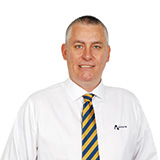 Jim.Scott@astutefinancial.com.au
I have more than 20 years' experience working in the finance industry, both in Europe and Australia. In Europe I spent time working for major banks finishing up as a credit analyst working out whether or not we would lend the money. I returned to Australia and decided the best use of these skills would be to help people realise the "Australian Dream" of home ownership. Not just obtaining the credit but putting in place strategies to repay it too. I started my business in 2005 and have been providing mortgage broking and credit advice ever since.
It is important to me that I understand your needs thoroughly, provide a solution that is highly competitively priced and structured to best suits your needs whilst providing the best service possible. I have been around a while so I like to think that there isn't much I can't answer (or find out the answer to) when it comes to finance and property.
Most of my new clients are referred by people I have previously helped and kindly recommend my services. My business is built on the service I provide, long term customer relationships are critical to this. I have received hundreds of glowing testimonials from people I have helped, a few can be found on my testimonials page but please feel free to ask me for more, I would be happy to show you more when we meet.
view more
view less