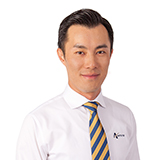 alan.lau@astutefinancial.com.au
For over a decade, I have been helping people in Sydney, China and South East Asia with their finance. I can speak English, Cantonese and Mandarin fluently and am proud to have helped over a thousand clients secured the finance that is right for them.
My role is to listen and understand your unique situation and needs. From this, I am able to assess the options available and provide advice so that you can make an informed choice. I then research the products available with over 25 lending institutions, big and small, including domestic, international bank and non-bank lenders. From here, I will provide you with options and proceed with the choice that you are most comfortable with.
I look after all the paperwork, assist in obtaining the finance and manage the process to settlement. After I have the finance in place, I ensure it remains suitable to your needs and competitively priced, all while answering any questions you have in relation to your facility and, indeed, the entire market.
I am a problem solver and enjoy helping people achieve their dreams. I act with honesty and integrity and am determined to deliver quality service and advice. I am a member of the Mortgage and Finance Association of Australia which means I adhere to a Code of Practice which requires professionalism, ethical behavior, transparency and a commitment to act in your best interest. I advise my clients as would any member of my family, and am committed to finding the right product for your needs. I am available 7 days a week and can be contacted on the details above. Alternatively, find me on Facebook.
view more
view less