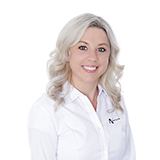 alyssa.cleaver@astutefinancial.com.au
As a Lending Specialist, my passion is helping people with all things financial because for me, being a Lending Specialist isn't a job, it's what I love to do.
I'm driven by seeing excitement and happiness on people's faces, whether it is first home owners buying their first home, couples or families building, renovating, extending or investors creating wealth for their future.
I've always had an aptitude for finance and numbers and have known for a long time I was destined for a career in finance. I've worked towards that goal throughout my professional life, carefully selecting jobs that taught me about different facets of the finance world and later earning formal qualifications in both Lending and Finance Broking Management.
What makes me different? I don't have the "Big bank" mentality, never have and never will. I'm not an Ex-Banker, or a current Banker. Yes I love finance, but I love the part of finance that helps people to be HAPPY, and that's why I chose to be a Lending Specialist.
This is my business and I'm dedicated to helping my clients achieve their goals. And because of that, my reputation is my most important asset. I'm not happy just to get a deal done, I want to get the right deal at the right price, every time, for every client. That's the foundation of my business and my personal credo.
I will simplify the loan process for you by completing the paperwork, liaising with your Real Estate Agent and Conveyancer as appropriate and of course maintaining ongoing contact with you along the way as well.
view more
view less