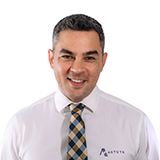 simon.milne@astutefinancial.com.au
I worked in the banking industry for 14 years across three institutions and a range of areas including Retail, Small Business, Business Bank & Commercial Bank. This experience has helped me develop the skills needed to assist a wide range of clients from first home buyers all the way through to ASX listed companies, and in a range of industries each with their own challenges and demands.
My passion has always been working closely with my clients to fully understand their position and their goals in the short, medium and long term. This approach is instrumental to ensuring I deliver an appropriate, tailored finance solution to help you grow, either personal wealth or business wealth (often both).
By establishing my own finance brokerage, I am perfectly positioned to work with my clients throughout their entire journey, not limited to a single lender or product suite. I value the ability to provide ongoing advice to my clients and being a trusted adviser as they traverse the challenges of business ownership and the funding requirements that this process often demands.
Whilst my banking career has provided me with in depth experience across all facets of finance (i.e. home lending, property development & investment, equipment finance, business/ commercial finance), I have a special interest in working solutions for business. I understand the growing pains businesses can experience; the common challenges that can occur and with a wider range of solutions from a variety of lenders, can provide solutions to even the most complex of situations.
I'm an Annerley local along with my partner, Aleisha, and our two dogs, Arnie & Angel. I split my free time between active and sedentary; the latter referring to me being quite a movie nerd.
I hold a Bachelor of Commerce (Finance major) and more recently my Diploma in Finance and Mortgage Broking Management and a Certificate IV in Finance and Mortgage Broking. I am also a member of the Mortgage and Finance Association of Australia (MFAA).
view more
view less